Special stamp "Les 40 ans mariage du couple grand-ducal"
Posted the 3/11/2021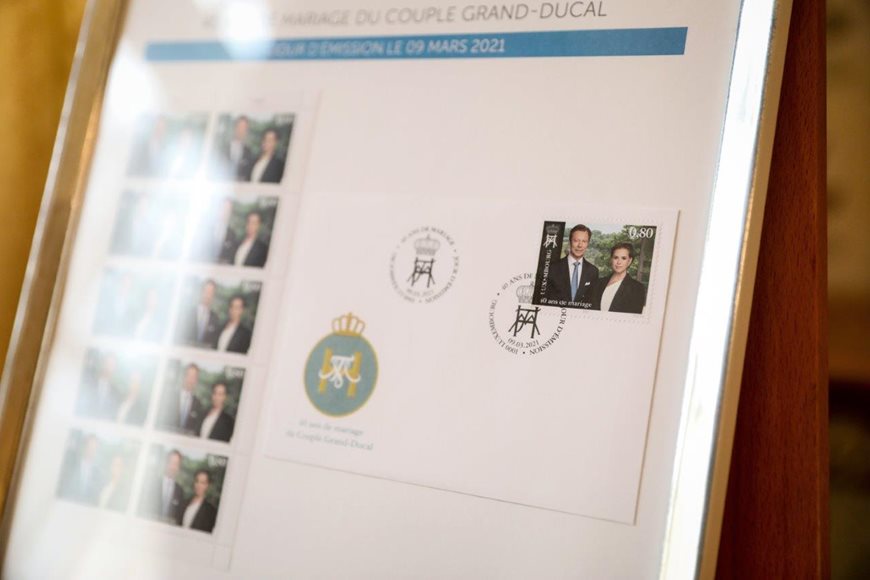 On the occasion of the 40th wedding anniversary of HH.RR.HH. the Grand Duke and the Grand Duchess, POST Luxembourg has created and issued a special stamp "40 years of marriage of the Grand Ducal Couple". Their Royal Highnesses met in the 1970s while studying at the University of Geneva. The engagement took place on November 7, 1980 followed by the wedding celebration in 1981, on February 14, Valentine's Day, in the Cathedral of Our Lady of Luxembourg.
On Thursday 11 March, the Managing Director of POST Luxembourg, Claude Strasser and Emile Espen, Head of Service POST Philately, were received in audience by HH.RR.HH the Grand Duke and the Grand Duchess to give them a souvenir frame including a stamp sheet celebrating the ruby (LU/DE) or emerald (FR) wedding ringing and an envelope obliterated by the "First Day" stamp.