Official handover of the special EXPO 2020 DUBAI stamp
Posted the 3/25/2022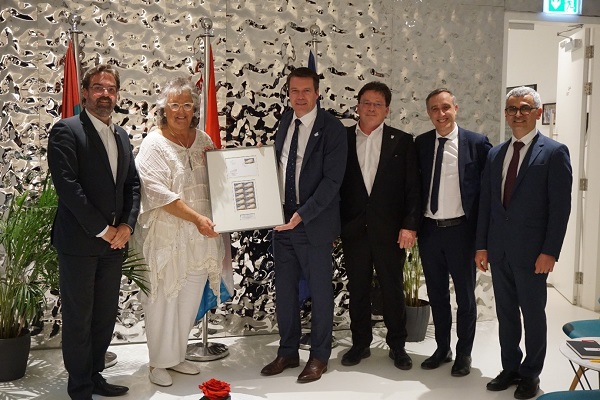 On 22 March 2022, the closing ceremony of the Luxembourg pavilion at EXPO 2020 DUBAI took place.

At this occasion, the Director General of POST Luxembourg, Claude Strasser, officially presented Maggy Nagel, the General Commissioner of the Luxembourg Pavilion, with the stamp issued in September 2021 on the occasion of the opening of EXPO 2020.

The concept of the Luxembourg pavilion, elaborated by the Luxembourg architectural firm METAFORM Architects and illustrating the sub-theme "Opportunity", is entitled "Resourceful Luxembourg". The design of the pavilion, which was taken up in the design of the special stamp, is inspired by the Möbius strip, an infinite shape that symbolises both the openness and dynamism of the Grand Duchy of Luxembourg.

POST is a partner of the Luxembourg pavilion at EXPO 2020 DUBAI.20 DUBAI.