POST Philately at the Veronafil
Posted the 11/18/2022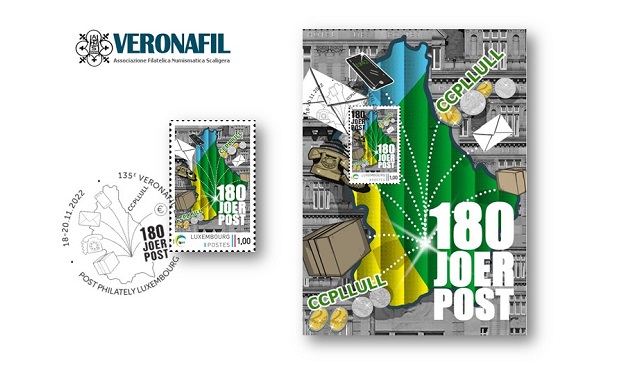 In the context of the
135th Veronafil,
which will take place from 18 to 20 November 2022, POST is issuing a "MengPost" stamp to mark the
180th anniversary of Post Luxembourg
.
The stamp, designed by
René Clement
, an employee of POST Luxembourg, as part of an in-house competition, comes with a postcard with a stamp and a special postmark.
Every November, Veronafil hosts the International Exhibition of Stamps, Coins and Cartofila. Organised by the
Associazione Filatelica Numismatica Scaligera,
it is open to all fans of stamps, coins, cards, telephone cards, antiques, engravings and books.
The philatelic souvenir set "180th anniversary of POST Luxembourg" is available
here
and at the Guichet Philatélique (13, rue Stumper - Luxembourg-Cloche d'Or).